Debating China: The U.S.-China Relationship in Ten Conversations (Paperback)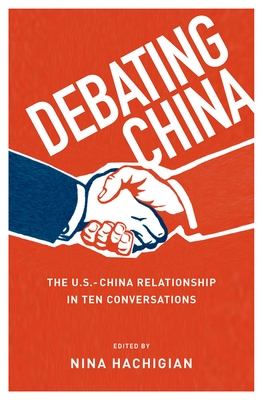 $34.74
Usually Ships in 1-5 Days
Description
---
America and China are the two most powerful players in global affairs, and no relationship is more consequential. How they choose to cooperate and compete affects billions of lives. But U.S.-China relations are complex and often delicate, featuring a multitude of critical issues that America and China must navigate together. Missteps could spell catastrophe.
In Debating China, Nina Hachigian pairs American and Chinese experts in collegial "letter exchanges" that illuminate this multi-dimensional and complex relationship. These fascinating conversations-written by highly respected scholars and former government officials from the U.S. and China-provide an invaluable dual perspective on such crucial issues as trade and investment, human rights, climate change, military dynamics, regional security in Asia, and the media, including the Internet. The engaging dialogue between American and Chinese experts gives readers an inside view of how both sides see the key challenges. Readers bear witness to the writers' hopes and frustrations as they explore the politics, values, history, and strategic frameworks that inform their positions. This unique volume is perfect for anyone who wants a deeper understanding of U.S.-China relations today.
About the Author
---
Nina Hachigian is Senior Fellow at the Center for American Progress, in Washington, D.C. Earlier, she served as a staff member of the National Security Council. She is co-author of The Next American Century: How the U.S. Can Thrive as Other Powers Rise. She has written essays for Foreign Affairs, The Washington Quarterly, Democracy, and Survival, as well as op-ed pieces for The New York Times, Los Angeles Times, and the South China Morning Post, amongst others. Hachigian has been a guest on "Real Time with Bill Maher," CNN, Fox News, BBC, and NPR's "All Things Considered" and "Morning Edition." She is a member of the Council on Foreign Relations.