Sisterhood Everlasting (Sisterhood of the Traveling Pants): A Novel (The Sisterhood of the Traveling Pants) (Paperback)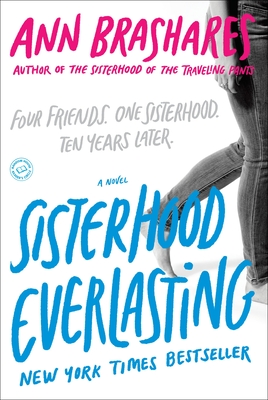 Description
---
NEW YORK TIMES BESTSELLER
 
Four friends
One sisterhood
Ten years later, the story continues

On the cusp of turning thirty, Tibby, Lena, Carmen, and Bridget are now living separate lives, out on their own. Yet despite having jobs and men that they love, each knows that something is missing: the closeness that once sustained them. Carmen is a successful actress in New York, engaged to be married, but misses her friends. Lena finds solace in her art, teaching in Rhode Island, but still thinks of Kostos and the road she didn't take. Bridget lives with her longtime boyfriend, Eric, in San Francisco, and though a part of her wants to settle down, a bigger part can't seem to shed her old restlessness. Then Tibby reaches out to bridge the distance, sending the others plane tickets for a reunion that they all breathlessly await. And indeed, it will change their lives forever—but in ways that none of them could ever have expected.
 
Look for special features inside. Join the Circle for author chats and more.
About the Author
---
Ann Brashares is the #1 New York Times bestselling author of The Sisterhood of the Traveling Pants, The Second Summer of the Sisterhood, Girls in Pants, and Forever in Blue, which comprise an internationally bestselling, award-winning series that has inspired two major motion pictures.
Praise For…
---
"A deftly told narrative of finding one's adult self."—Entertainment Weekly
 
"[Ann] Brashares nimbly ages her characters, nicely capturing late- twentysomething concerns about marriage, motherhood, and careers as well as love's enduring power."—Booklist
 
"Poignant . . . Brashares's literary response will satisfy readers longing for 'just one more' story about their favorite fictional friends."—Bookreporter.com
 
"Brashares expertly taps into the difficulties of carrying childhood friendship into the trials of adulthood."—Library Journal
 
"Touching . . . resonant with female friendship."—The Washington Post