Forever in Blue: The Fourth Summer of the Sisterhood (Hardcover)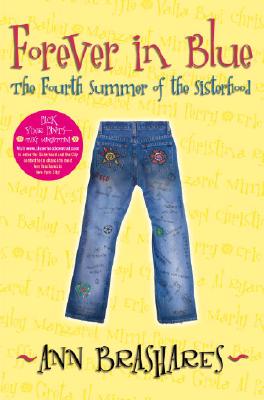 Description
---
With unraveled embroidery and fraying hems, the Traveling Pants are back for one last, glorious summer.

Lena: Immerses herself in her painting and an intoxicating summer fling, fearing that the moment she forgets about Kostos will be the moment she sees him again.

Carmen: Falls under the spell of a sophisticated college friend for whom a theatrical role means everything and the heritage of the Pants means nothing.

Bridget: Joins a dig for an ancient city on the coast of Turkey and discovers that her archaeology professor is available in every way except one.

Tibby: Leaves behind someone she loves, wrongly believing he will stay where she has left him.

Join Ann Brashares's beloved sisterhood once again in a dazzling, fearless novel. It's a summer that will forever change the lives of Lena, Carmen, Bee, and Tibby, here and now, past and future, together and apart.
About the Author
---
A lover of summer, pants, and travel, Ann Brashares lives in New York City with her husband and their three children. Her Sisterhood novels, "The Sisterhood of the Traveling Pants "(which was made into a major motion picture), "The Second Summer of the Sisterhood, "and "Girls in Pants: The Third Summer of the Sisterhood, "comprise an internationally bestselling and award-winning series that reached #1 on the "New York Times "bestseller list.