The Heidi Chronicles (acting edition) (Paperback)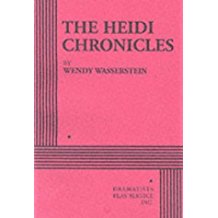 Description
---
Full Length, Comedy/Drama
3 men, 5 women
Total Cast: 8

Winner of the Pulitzer Prize, the Tony Award, the New York Drama Critics Circle Award, the Outer Critics Circle Award, the Drama Desk Award, the Hull-Warriner Award and the Susan Smith Blackburn Prize.

THE STORY: Comprised of a series of interrelated scenes, the play traces the coming of age of Heidi Holland, a successful art historian, as she tries to find her bearings in a rapidly changing world. Gradually distancing herself from her friends, she watches them move from the idealism and political radicalism of their college years through militant feminism and, eventually, back to the materialism that they had sought to reject in the first place. Heidi's own path to maturity involves an affair with the glib, arrogant Scoop Rosenbaum, a womanizing lawyer/publisher who eventually marries for money and position; a deeper but even more troubling relationship with a charming, witty young pediatrician, Peter Patrone, who turns out to be gay; and increasingly disturbing contacts with the other women, now much changed, who were a part of her childhood and college years. Eventually Heidi comes to accept the fact that liberation can be achieved only if one is true to oneself, with goals that come out of need rather than circumstance. As the play ends she is still "alone," but having adopted an orphaned baby, it is clear that she has begun to find a sense of fulfillment and continuity that may well continue to elude the others of her anxious, self-centered generation.
About the Author
---
Wendy Wasserstein's play THE HEIDI CHRONICLES won the 1989 Pulitzer Prize, Tony Award, and Susan Smith Blackburn Prize; the New York Drama Critics Circle, Drama Desk, and Outer Critics Circle Awards; and earned her a grant from the Kennedy Center Fund for New American Plays. For THE SISTERS ROSENSWEIG she received the 1993 Outer Critics Circle Award, a Tony Award nomination, and the William Inge Award for Distinguished Achievement in American Theatre. Other plays include OLD MONEY and AN AMERICAN DAUGHTER and THIRD (Lincoln Center); UNCOMMON WOMEN AND OTHERS (Phoenix Theater); ISN'T IT ROMANTIC (Playwrights Horizons); a musical, MIAMI (with Jack Feldman and Bruce Sussman); WAITING FOR PHILIP GLASS, included in LOVE'S FIRE (The Acting Company). Wasserstein's screenplays include "The Object of My Affection," produced as a major motion picture starring Jennifer Aniston and Paul Rudd. For PBS Great Performances she wrote "Kiss, Kiss Darling"; "Drive, She Said"; and adaptations of John Cheever's "The Sorrows of Gin" and her own "Uncommon Women and Others." She adapted THE HEIDI CHRONICLES for TNT (1996 Emmy Award nomination for Best Television Movie) and AN AMERICAN DAUGHTER for Lifetime Television. Her adaptation of "The Nutcracker" was performed at The American Ballet Theatre at The Met, and her adaptation of "The Merry Widow" premiered at San Francisco Opera. She was the librettist for the original opera "Festival of Regrets: Central Park," which had runs at Glimmerglass Opera and New York City Opera. She wrote "Pamela's First Musical," a children's book, which adapted with Cy Coleman into a musical which premiered in Spring 2006. Her other books include the essay collections "Shiksa Goddess" and "Bachelor Girls." She contributed to "The New Yorker," "The New York Times," "New York Woman," and "Harper's Bazaar," among many other publications. She was the recipient of an NEA Grant, Guggenheim Fellowship, and a Fellowship at the American Academy in Rome. She served on the Council of the Dramatists Guild, on the Board of the British American Arts Association, School of American Ballet, WNET/Thirteen, and The Educational Foundation of America. She taught at Columbia University, New York University, Juilliard School, and Princeton University, and held an Honorary Doctorate from Mount Holyoke College. Wasserstein was born in Brooklyn and raised in Manhattan. She was a graduate of Mount Holyoke College and the Yale School of Drama.
Praise For…
---
A significant and celebrated play, which was first presented by Off-Broadway's Playwrights Horizons and went on to become a long-run Broadway success. Funny, touching, and written with rare grace and sensitivity, the play is a moving examination of the progress of a generation, from the socially and politically activist sixties to the success-oriented eighties—a time during which the status of American women underwent profound, and sometimes unsettling, change. "…not many plays manage Heidi's feat of inducing almost continuous laughter while forcing the audience to examine its preconceptions…It's the play of the season…" —Variety. "…witty, hilarious…not just a funny play, but a wise one…I doubt we'll see a better play this season." —NY Daily News. "…a wonderful and important play." —NY Newsday. "…the writing is emotional and heartfelt, rare qualities in today's trivial theatre, and all the more extraordinary when combined with perceptive characterizations and witty dialogue." —BackStage.