Eisenhower vs. Warren: The Battle for Civil Rights and Liberties (Hardcover)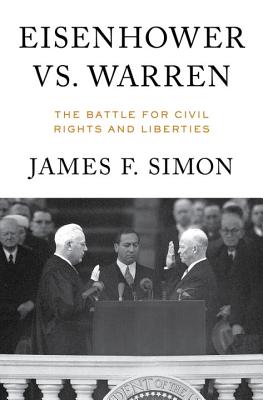 Description
---
The epic 1950s battle that would shape the legal future of the civil rights movement is chronicled here for the first time.
The bitter feud between President Dwight D. Eisenhower and Chief Justice Earl Warren framed the tumultuous future of the modern civil rights movement. Eisenhower was a gradualist who wanted to coax white Americans in the South into eventually accepting integration, while Warren, author of the Supreme Court's historic unanimous opinion in
Brown v. Board of Education
, demanded immediate action to dismantle the segregation of the public school system. In
Eisenhower vs. Warren
, two-time
New York Times
Notable Book author James F. Simon examines the years of strife between them that led Eisenhower to say that his biggest mistake as president was appointing that "dumb son of a bitch Earl Warren." This momentous, poisonous relationship is presented here at last in one volume. Compellingly written,
Eisenhower vs. Warren
brings to vivid life the clash that continues to reverberate in political and constitutional debates today.
About the Author
---
James F. Simon is dean emeritus at New York Law School. He is the author of nine books on American history, law, and politics, and has won the American Bar Association's Silver Gavel Award. He lives in West Nyack, New York.
Praise For…
---
Enjoyably readable, thoroughly researched.... An absorbing book about a saga in American law and politics that remains centrally important.
— Lincoln Caplan, New York Times

The most thorough and balanced assessment of the two men's fraught relationship yet written.... Simon is the ideal scholar to undertake this study, having made a career of examining conflicts between the presidency and the Supreme Court. As we anticipate an existential clash between Donald Trump and the justices—if Trump attempts to fire Special Counsel Robert Mueller, for instance, or defies an obstruction-of-justice finding—Simon's book is highly topical. It also has something to teach us about incremental versus rapid change. The fundamental disagreement it chronicles concerns the pace of social progress.
— Michael O'Donnell, The Atlantic

Illuminate[s] an often-overlooked period of legal history at the start of the civil rights movement. . . . Simon is in top form, creating sympathetic portraits of both protagonists, capturing the historical context of Eisenhower's presidency, thoroughly explaining the dynamics of the Warren Court, and, when necessary, looking past Eisenhower's and Warren's professed positions to expose their underlying motives and goals. This balanced account of the bitter relationship between Eisenhower and Warren presents a new lens through which to view the start of the civil rights movement.
— Publishers Weekly

A vivid account….Gripping.
— Michael Barone - Wall Street Journal

Many Americans, especially white ones, think of the 1950s with gauzy nostalgia….[Eisenhower vs Warren] offer[s] important corrections to such sentimentalism…. Mr. Simon is an engaging storyteller.

— The Economist

A detailed,
fine-grained study...As Simon skillfully demonstrates, Eisenhower was far from inert on the
subject of racial reform… Warren, too, is written as intriguingly
complicated.
— Open Letters Review

The two principals' individuality, as well as their relationship to one another and to their associate justices, is skillfully and intelligently drawn. This is a cogently written book, especially given the complexity of many of the issues. Simon does great justice to an important segment of a critical period in American history.
— Booklist

Chief Justice Earl Warren was a bold moralist. President Dwight Eisenhower was a cautious pragmatist. Both men were, in their way and in their time, great leaders. With clear-eyed judiciousness and a subtle feel for the nuances of hard decision-making, James Simon has brought the compelling conflict between these two men to life.
— Evan Thomas, author of Ike's Bluff and Being Nixon

A lively and accessible synthesis of the existing literature on Eisenhower's and Warren's careers, as well as an incisive analysis of their relationship. Once again James Simon shows his facility for illuminating pairings of celebrated historical figures.
— G. Edward White, David and Mary Harrison Distinguished Professor of Law University of Virginia School of Law

In Eisenhower v. Warren, James Simon offers a truly masterful telling of the complex relationship between two of the most influential and compelling figures in mid-twentieth century America. Exploring such fundamental issues as racial segregation and McCarthyism, Simon takes us beyond the scenes in the White House, the Congress, and the Supreme Court to reveal with extraordinary intimacy the conflicts, the compromises, and the sometimes shaped antagonisms that shaped one of the most pivotal periods in American history. Quite frankly, I couldn't put it down!

— Geoffrey Stone, author of Sex and the Constitution

A fast-paced and elegantly written study of the two Republican titans that forever changed post-World War II American politics and law. It's impossible to grapple with the Civil Rights movement of the 1950's and the 1960's without reading the gem-like book. Highly recommended!
— Douglas Brinkley, author of Rightful Heritage: Franklin D Roosevelt and the Land of America

James Simon delivers a provocative account of the complicated relationship between two 20th century giants, Dwight Eisenhower and Earl Warren, and their historic impact civil rights and liberties. Rigorously researched and well written, Simon's book mines the latest research, answering many questions and raising new ones.
— David Nichols, author of Ike and McCarthy: Dwight Eisenhower's Secret Campaign Against Joseph McCarthy

James F. Simon's important book could not be timelier. The lessons of the battle between President Eisenhower, the cautious pragmatist, and Chief Justice Warren, the principled constitutionalist, are as relevant today as they were more than fifty years ago. Simon's lucidly written, riveting account is an invaluable reminder of what is at stake when our civil rights and liberties are threatened. A major achievement.
— Nadine Strossen, former President, American Civil Liberties Union

James F. Simon's parallel study of the lives of two remarkable figures in American history reminds us of a far different time in our nation. Eisenhower vs. Warren is a behind-the-public-scenes look at the post-World War II era of our nation when the battle for civil rights was fought in several venues…. Eisenhower vs. Warren reminds us of an era when Supreme Court justices owed their allegiance to the Constitution they interpreted, not the president or political party who nominated them.

— Stuart Shiffman, Bookreporter