Girls in Pants: The Third Summer of the Sisterhood (Compact Disc)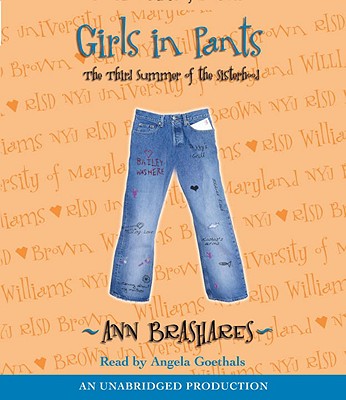 Description
---
The Pants first came to us at the perfect moment. That is, when we were splitting up for the first time. It was two summers ago when they first worked their magic, and last summer when they shook up our lives once again. You see, we don't wear the Pants year-round. We let them rest so they are extra powerful when summer comes. (There was the time this spring when Carmen wore them to her mom's wedding, but that was a special case.)

Now we're facing our last summer together. In September we go to college. And it's not like one of those TV shows where all of us magically turn up at the same college. We're going to four different colleges in four different cities (but all within four hours of one another—that was our one rule). We're headed off to start our real lives.

Tomorrow night at Gilda's we'll launch the Pants on their third summer voyage. Tomorrow begins the time of our lives. It's when we'll need our Pants the most.
About the Author
---
A lover of travel and of pants, Ann Brashares lives in New York City with her husband and three children.
Praise For…
---
"Readers of the other books won't be disappointed." - Booklist, Starred

"Filled with conversations, action, & life." - Kliatt, Starred

"The girls are once again wonderfully drawn, with all their realistic faults." - Publishers Weekly

"The Pants set will bruise their fingertips on this page-turner." - The Bulletin, Recommended


From the Paperback edition.