Tex-Mex Diabetes Cooking: More Than 140 Authentic Southwestern Favorites (Paperback)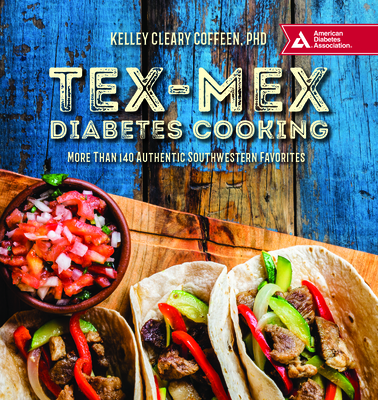 $19.95

Usually Ships in 1-5 Days
Description
---
Bold and hearty, the flavors of the Southwest are a rich mixture of cultures, history, and unique regional ingredients. When prepared with traditional ingredients, the cuisine is a heady blend of aromas and spices that is delicious, fulfilling, and--surprisingly--healthy
In Tex-Mex Diabetes Cooking, cookbook author and Southwestern cuisine expert, Kelley Coffeen, takes you on a tour of the region with more than 140 recipes that focus on fresh local vegetables, fruits, beans, cheeses rich in protein, lean meats, fish, and poultry--all with calorie, carb, and fat levels dialed in for those looking to lose weight or manage their diabetes. This is not a diet book, but a classic collection of beloved and soon-to-be favorite Southwestern and Mexican dishes prepared in easy, delicious, healthy recipes.
Inside you'll find traditional classics such as:
Smoked Cheddar Cheese and Green Chile TamalesPork and Pepper BurritosStacked Saucy Enchiladas with Fresh GreensSeared Sirloin Tacos with GuacamoleRoasted Pineapple SalsaWhole-Wheat Hot Cakes with Cajeta and CoconutGreen Chile Corn ChowderChopped Mexican Salad with LimeAnd much more
Who can resist enjoying more of their favorite food (Mexican dishes rank alongside Italian and Chinese cuisine as All-American favorites) while doing their body a favor at the same time? It's a winning menu for young and old alike--healthy and nutritious, without losing the authenticity and flavor of its cultural origins. Kelley Coffeen knows from a lifetime of experience, living and cooking in various regions across the Southwest, that Tex-Mex fare is easy and fun to prepare at home, and a crowd-pleaser on the table. With this in mind, she created Tex-Mex Diabetes Cooking as the go-to book for home cooks looking for easy, diabetes-friendly, satisfying, and healthy Southwestern dishes to feed their family.
About the Author
---
Kelley Cleary Coffeen, PhD, is a food consultant, blogger, and cookbook author. She's also a true Southwest U.S. native--she has lived in Colorado, Texas, Arizona and now in Las Cruces, New Mexico--who has been fascinated and immersed in Tex-Mex cuisine and flavors all her life.