Murder by Milk Bottle (A Constable Twitten Mystery) (Paperback)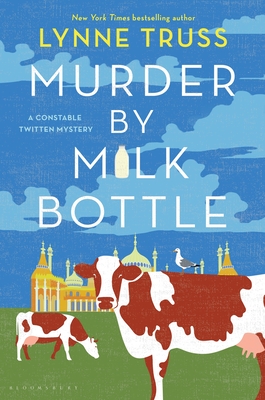 $17.00

Usually Ships in 1-5 Days
Description
---
The quirky and charming third crime novel from New York Times bestselling author Lynne Truss.

In the wake of two extremely high-profile murder cases, and with the summer of 1957 finally winding down, Constable Twitten is eagerly anticipating a quiet spell at work. But his hoped-for rest is interrupted when he and his colleagues find a trio of bodies, all murdered with the same unusual weapon: a milk bottle.

The three victims are seemingly unconnected-a hardworking patrolman, a would-be beauty queen, and a catty BBC radio personality-so Constable Twitten, Sergeant Brunswick, and Inspector Steine are baffled. But with Brighton on high alert and the local newspaper churning out stories of a killer on the loose, the police trio is determined to solve the case and catch the killer.

Charming, witty, and full of the joyfully zany characters Truss's readers have come to love, Murder by Milk Bottle will delight old fans and new alike.
About the Author
---
Lynne Truss is a columnist, writer and broadcaster whose book on punctuation Eats, Shoots & Leaves was an international bestseller. She has written extensively for radio, and is the author of six previous novels, as well as a non-fiction account (Get Her Off the Pitch!) of her four years as a novice sportswriter for The Times. On radio, she is currently engaged in writing a continuing sequence of short stories for Radio 4 entitled Life at Absolute Zero. Her columns have appeared in the Listener, The Times, the Sunday Telegraph and Saga. She lives in Sussex and London with two dogs.
Praise For…
---
Outstanding... In her ability to blend crime and farce, Truss is in a class of her own. Publishers Weekly, Starred Review

A worthy follow-up to her delightful 2018 novel A Shot in the Dark. . . . One looks forward with glee to the novel's culmination-and to this quick-learning constable's future adventures. The Wall Street Journal on THE MAN THAT GOT AWAY

The craft and care with which author Truss weaves her facts into a richly narrated but utterly hilarious tapestry is amazing. The reader may find himself wondering how she manages to keep her facts straight as she throws his own mental processes into such a delightful muddle. New York Journal of Books on A SHOT IN THE DARK

Truss' language, unsurprisingly, sparkles, and her portrayal of class and its exasperating effect on even the British underworld is memorable. Readers of Agatha Christie are a natural audience for this study in peculiarity. Booklist on A SHOT IN THE DARK

Delightful . . . Truss perfectly blends humor and detection. Publishers Weekly on THE MAN THAT GOT AWAY

Witty and whimsical, Murder by Milk Bottle is frothy and fun. Historical Novel Society